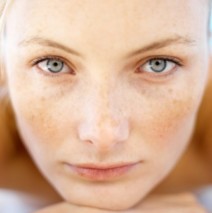 Skin Care
Facials
Skin Script Enzyme Facial $80
Enzymes are an intensive treatment designed to rapidly exfoliate the epidermal cell, clarify the complexion and effectively improve hyper-pigmentation and fine lines. The treatment includes steam, extractions, masque and a thorough neck and shoulder massage. Choose one of the following enzyme's right for your skin.
Lemon Zest Enzyme –  Exfoliate and brighten the skin with the antioxidant and brightening benefits of Lemon. Contains 8% arbutin, 6% lactic acid, 3% glycolic acid, and 2% kojic. It promotes deep hydration that protects from environmental damage while relieving the surface signs of aging. Arbutin and kojic provide extreme lightening capabilities. Perfect for normal to dry skin.
Pomegranate Enzyme –  Pomegranate is a powerful antioxidant which also brightens the skin. Contains 11% lactic, 4% alpha-arbutin,and 2% salicylic. It promotes deep hydration, reduces oiliness and lightens the skin from irregular pigmentation. Perfect for normal, aging, oily, and acne prone skin.
Coconut/Papaya Enzyme – Coconut and papaya enzymes dissolve dead skin cells revealing healthy soft skin.  The small molecular structure of coconut allows for easy absorption through the skin giving it a soft, smooth texture. Contains only fruit enzymes for a gentle exfoliation for the most sensitive skin. Ideal for dry, rough and wrinkled skin.
Blueberry Enzyme -The Blueberry Enzyme is a powerful antioxidant with 1% glycolic and 1% salicylic.  It digests dead skin cells and softens sebum during your facial. The antioxidants within the blueberries are a perfect anti-aging treatment that will create a healthy glow. Anti-aging, normal, combination and oily skin.
Pumpkin  Spice Enzyme – Packed with Vitamins A and C, this enzyme will exfoliate and reduce oil. You will enjoy the wonderful smell of pumpkin and orange.  A 15% pumpkin concentration, it dissolves dead skin, while orange and apple provide a beautiful glow to the skin. Smells just like pumpkin pie. Anti-aging, normal to dry skin.
Express Facial – $50
In a hurry? A quick treatment to deeply cleanse and lightly exfoliate the skin. An excellent treatment to revive and nourish the skin in between regular treatments.
Epicuren Enzyme Facial – $95
A unique treatment that uses natural enzymes, vitamins and proteins to stimulate, nourish and rejuvenate the skin's cells. The treatment includes a cinnamon hot peel and 2 protein masks.
Microdermabrasion – $80
Eradicate the ravages of time with this breakthrough cosmetic skin resurfacing system. Microderm can reduce the appearance of fine lines, wrinkles, enlarged pores, scars, sun damage, and hyper-pigmentation. You will see immediate results and NO down time.
Series (3) – $240
Series (6) – $450
Microdermabrasion with Enzyme facial –  $125
Series (3) – $340
Series (6) – $570
** all facials include Steam, extractions, neck, shoulder and arm massage
Peels
Peels slough away dead skin cells, allowing fresh new cells to surface, diminish fine lines and wrinkles, treat acne and hyper pigmentation. Best results in series of 3-6
$60 Series (3) – $150 Series (6) $285
20% Lactic – Lactic acid is slightly milder, it is recommended to people whose skin is more sensitive, to first time users, people constantly exposed to sun (although this does not mean you should not wear a sunscreen at all times), and people with darker skin tone. Dry, hyperpigmentated, melasma skin.
30% Glycolic – Gycolic acid has the ability to penetrate deep beneath the surface of the skin. It stimulates cell regeneration in the skin by increasing the production of collagen. Rapid shedding of the skin's exterior to reveal fresh new glowing skin underneath. Acne prone, congested, oily skin
TCA(Trichloroacetic Acid) – Effective intermediate to deep peeling agent, excellent for correcting skin flaws and rejuvenating the skin; gives dramatic results every time. TCA peels are ideally suited for people who have undergone other peel treatments and now require a deeper peel for more effective results. Melasma, Hyperpigmentated, Sun Damaged skin.